What are teddy bear shows?
Bright Star Promotions, Inc. connects the teddy bear collector with the teddy bear artist at shows, held in major hotels, in an eleven state area.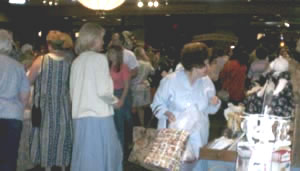 A show is a gathering of soft-sculpture teddy bear artists who display their adorable bears on tables in hotel ballrooms. Customers pay to attend. The show doors swing open at 10 a.m. and collectors enter the ballroom; they smile with adoring eyes and exude great enthusiasm. Even the teddy bears begin working their mystical charms. Adoptions begin. Collectors choose big bears, small bears, fancy or plain bears, bears made of clay or wood; whatever captures their attention.
Collectors have a hard time deciding which of the thousands of bears to adopt. The bear artist's heartstrings tug, one of their 'cubs' is leaving the den.

Bear making is a serious business and an appreciable art form. Bear artists don't like hearing the term 'buy/sell' bears, it's much too harsh. They prefer the word 'adopt'. A teddy bear takes from 8 to 10 hours to make and then another 1 to 4 hours to dress.

Imported mohair is the fabric choice. Shoe-button eyes are used to give the bear that all-caring gaze. Artist's fingers get numb sewing noses, jointing and stuffing bears. Most bears are stuffed with Polyfil fibers, while others have excelsior, or pellets adding a soft squeezable or heavy feel. Each artist creates a special look for their bears, making them one-of-a-kind and highly collectible. Artists identify bears by signing paw pads, and do it gently, because bears are ticklish.
The shows also have bear accessories such as clothing, jewelry, toys, figurines, furniture, teddy bear books and magazines. The collector's like to chat with the artists who weave stories about their bears, adding life, spunk, character and charm to a once flat piece of fur-like material. The quality and craftsmanship are truly amazing.

Door prizes are announced every hour.

If you are unfamiliar with a teddy bear show, or are among the millions of teddy bear owners who have room in your house for "just one more bear", come to one of our shows and see for yourself.





Show hours are 10:00 a.m. until 3:00 p.m.

General admission to the show is $6.00 for adults, $2.00 for children 3-12.

"A true friend is a soft and cuddly teddy bear who'll stand by your side and love you forever," said the show's sponsor, Valerie Rogers.