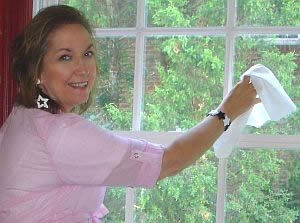 "Cleaning windows was always time consuming and hard work. Now with The Ultimate Cloth the job is easy and fun. Windows are streak free.
They sparkle and shine!" says Valerie Rogers
Valerie introduces the . . .



The Ultimate Cloth uses exclusive MiraFiber™ technology to clean surfaces with just water!
No more expensive cleaning chemicals!
No more allergic reactions or hands rough from cleaners!
No more paper towels ending up in landfills!
Think of all the money and time you'll save!
The Ultimate Cloth leaves windows and mirrors streak free!
You'll be amazed how easy cleaning windows can be!